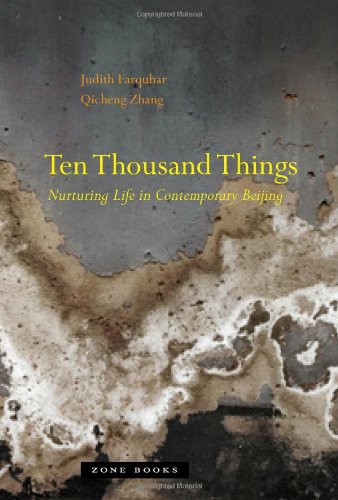 Farquhar and Zhang's book Ten Thousand Things: Nurturing Life in Contemporary Beijing presents vivid descriptions and insightful and provocative analyses of Beijing residents' everyday practices of yangsheng, a kind of self-cultivation which includes activities such as taijiquan, qigong, calisthenics, jogging, swimming, dancing, singing, meditation, chess, painting, writing, talking, learning a foreign language, and connoisieurship of tea, wine, and medicinal cuisine.
In addition to promoting personal health and well-being, these activities are also promoted as conducive to the strengthening of the Chinese nation.
By explicating the underlying cultural logic that ties these disparate kinds of activities together, this book expands conceptions of what can constitute an object of anthropological analysis, and how deep and profound meanings can be found in the everyday experiences of ordinary people.
Ten Thousand Things is also a daring, creative book that breaks new ground in possibilities for experimental ethnography and cross-national, cross-cultural collaborative engagements.
By sometimes revealing the distinct voices of Farquhar, an anthropologist in the US, and Zhang, a philosopher in China, and the dialogue between them, this book fearlessly presents schisms, disagreements and disjunctures between the perspectives of the two authors in refreshing and revealing ways, and pushes the boundaries of anthropology and ethnographic writing, opening up new possibilities for collaboration across national, linguistic, cultural, and epistemological boundaries.
2013 Hsu Book Prize Committee:
Vanessa Fong (Amherst), Chair
Lieba Faier (UCLA)
Laura Nelson (UC Berkeley)