GRADUATE STUDENT PAPER – PRIZE ANNOUNCEMENT
The Society for East Asian Anthropology now invites submissions for the 2019 SEAA Prize for Outstanding Graduate Student Paper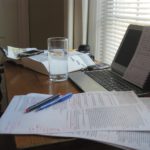 .
The prize of $300 is awarded annually for the best graduate student paper on any aspect of East Asian anthropology and/or East Asian anthropology's contribution to the broader field.
Papers must deal with the anthropological study of East Asian societies and cultures, or other societies/cultures and diasporic and transnational communities with historical or contemporary ties to East Asia.  Papers will be read by a committee of the Society for East Asian Anthropology and judged on original empirical research and contribution to the field; organization, quality, clarity of writing, and cogency of argument. The author of the paper judged to be of the highest quality will receive the prize.
The Graduate Student Paper Prize Committee consists of Committee Chair Tami Blumenfield (Furman University and University of New Mexico, Department of Anthropology), Associate Professor Elisabeth Schober (University of Oslo, Department of Social Anthropology), and Assistant Professor Suma Ikeuchi (School of the Art Institute of Chicago, Department of Liberal Arts).
General eligibility criteria:
Students must be in a degree-granting program (including MA or PhD) at the time of their submission.
Paper must be the original work of the student and previously unpublished.
Limit one submission per student.
Manuscript format criteria:
All manuscripts must be typed, double-spaced, with one inch margins.
Maximum length for the body of the text is up to 7,000 words; the abstract, tables, notes, and references may constitute additional pages.
All submissions must follow the standard anthropological format for citations, endnotes, and "References Cited" as outlined in the American Anthropologist style guide.
Dissertation or thesis chapters should be reorganized as articles that can stand alone.
Authors must include a title and also an abstract of 250 words or less on the first page of the paper.
The author's name, mailing address, e-mail address, telephone number, university affiliation and academic status (MA or PhD) should appear typed on a cover sheet separate from the manuscript. The author's name should not appear elsewhere on the manuscript.
One email attachment of the manuscript is to be submitted to the Chair of the SEAA Graduate Student Paper Prize Committee by June 15, 2019. No late entries will be accepted, and submissions will not be returned.
Entries that do not conform to the above requirements will not be considered.
The SEAA Graduate Student Paper Prize Committee is building a list of faculty who supervise East Asia Anthropology PhD students and who would like to receive updates about upcoming opportunities. If you would like to be added to this list, please contact the Committee Chair, tblumenfield at unm.edu . We appreciate the support of our colleagues as we work to recognize outstanding student work!