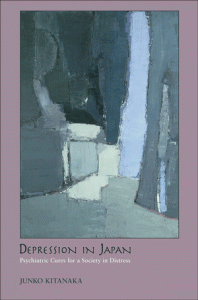 Junko Kitanaka's book, Depression in Japan: Psychiatric Cures for a Society in Distress, presents a fascinating story of the use of biologizing discourses to make "patients" out of individuals who would otherwise resist psychological treatment.
It carefully balances the mobilization of critical cultural analysis with an understanding of the real suffering of depression that, in the hands of a less empathetic writer, could easily have become obscured.
It is based on years of research and a deep immersion in and understanding of the fields of psychiatry in both Japan and the United States.
It offers fresh and interesting theoretical insights that extend our understandings of nationalism, gender, and local-global relations.
It is also sensitively and thoughtfully written in a way that speaks to multiple audiences: not only those in Japanese studies and medical anthropology but also psychiatrists in Japan and the United States themselves.
It is a model of how one might think about how ideas and medical practices travel and yet take root in different ways in different places, revealing both links and differences among psychiatry in Japan, the United States, and Europe.
2013 Hsu Book Prize Committee:
Vanessa Fong (Amherst), Chair
Lieba Faier (UCLA)
Laura Nelson (UC Berkeley)