Playing with Nan
Dipesh Karel (University of Tokyo) and Asami Saito (Media Help Line, Kathmandu)
2013, HDV, color, 88 minutes
Synopsis: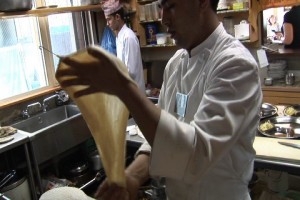 Playing with Nan is the story of a young Nepali man who migrated to work in a Nepali restaurant in northern Japan. The film explores his daily life at work and his family at home, which reflects socio-cultural problems related to globalization. Twenty-eight years ago, Ram was born in a rural village in Nepal. Working on the farm, Ram saw little hope apart from surviving in poor conditions. One day, he decided to escape from the village and poverty. In Kathmandu he worked for 12 years at several restaurants. However, he could not change the family's situation. He heard a beautiful story from a broker about the work and earning opportunities in Japan. He paid the broker US$20,000 to buy a work visa to enter in Japan. He borrowed the money from his relatives and friends with the commitment of paying them back later with 20% interest. Several dramatic consequences occurred within Ram's life and his family's after his migration to Japan.
From the jury:
Using a predominantly observational mode, punctuated with interviews and conversations, Playing with Nan tells a powerful story about global migration. The directors' careful filmmaking and editing unpack the paradoxes and complexities of migrant labor in and between Asian countries. With its attention balanced sensitively between the receiving country (Japan) and the sending country (Nepal), this intimate portrait of lives, ambitions, and relationships sheds light on an aspect of globalization that is less frequently addressed in scholarship and news media. We all strongly agreed that this film would contribute immensely to courses on migration, global flows, and contemporary Japan.
Honorable Mentions:
1) Kiatsu: The Sound of the Sky Being Torn
Rupert Cox (Manchester University) and Angus Carlye (University of the Arts London)
Two-screen multichannel work, also presented online in side-by-side format
From the directors: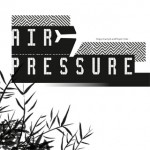 "Kiatsu" is a collaboration between anthropologist Rupert Cox and artist Angus Carlyle. It draws on their experiences of recording the activities of the last farming family living within the concrete and steel infrastructure of Japan's largest airport, where noise – of taxiing and of take-offs and landings – exerts a constant pressure from before dawn until well after dusk.
From the jury:
We are excited to recognize "Kiatsu" for an honorable mention in this year's David Plath Media Award Competition. This work sets a new, challenging example of the possibilities for collaboration between anthropologists and artists, particularly in its use of sounds and screens for investigating how one family near Narita airport in Japan negotiates the infrastructures of modernization. We encourage everyone to also explore their blog, where Cox and Carlyle detail their production process.
2) Sounds of Japan's Antinuclear Movement
David Novak (UC Santa Barbara)
Podcast and website
From the producer: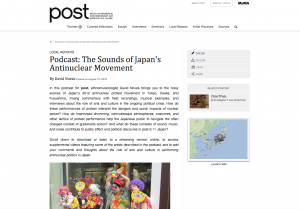 Since the nuclear accident at Fukushima Daiichi on March 11, 2011, Japan has exploded with an unprecedented series of spectacular public protests, with crowds of up to 200,000 citizens gathering in front of government buildings in Tokyo to beat on drums, play instruments, and chant slogans opposing the restart of nuclear plants across the nation. In the context of a near blackout of mainstream media coverage, the combination of social media, musical performance, and street protest took on increasing importance in generating public dialogue about the risks of radiation and articulating fears about the consequences of Japan's energy policy.
From the jury:
This is a very detailed and well-told story of musical responses to the 3-11 triple disaster. The podcast and website are accessible to general audiences, with an impressive amount of information packed into a 15 minute podcast. The website is a very useful feature and models the possibilities of future media scholarship that combines videos, podcasts, texts, and visual images. We all would have liked to see even more materials linked online, given the potential of this platform for collecting, curating, and sharing resources.
2014 David Plath Media Award Committee:
Jenny Chio (Emory University), Chair
Timothy Gitzen (University of Minnesota)
Eleana Kim (UC Irvine)
Nathaniel Smith (University of Arizona)