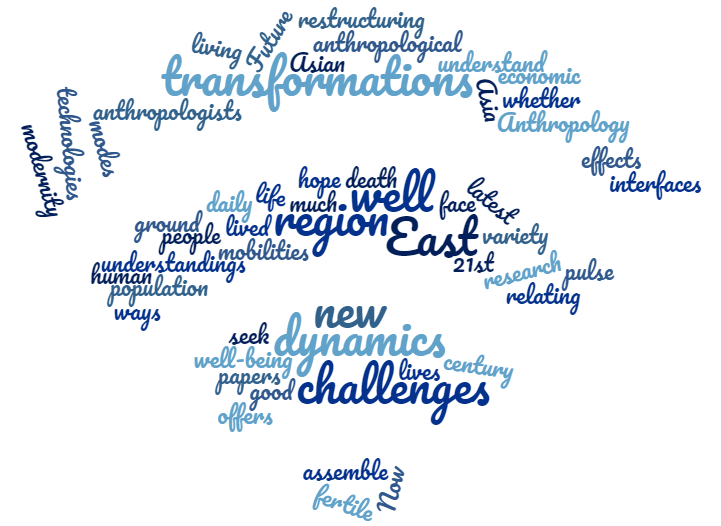 Society for East Asian Anthropology
Regional Conference 2019 – Tokyo
East Asian Anthropology Now and into the Future:
Transformations, Dynamics, and Challenges
[update 29 April 2019: registration begins on June 1]
The region of East Asia offers a fertile ground for anthropologists who seek to understand the pulse of a new modernity, whether it be the effects of economic restructuring, new modes of living and being, new ways of relating, technologies and human interfaces, population dynamics, understandings of well-being, the life well lived or the 'good' death, mobilities in the region, and much more. We hope to assemble a variety of papers from the latest anthropological research on the transformations and dynamics as well as challenges people in the region face as they go about their daily lives in the 21st century.  

August 2-3, 2019 hosted at Graduate School of Asia-Pacific Studies (GSAPS) of Waseda University
Conference Aims
The conference aims:
to provide a platform for anthropology teachers and students and scholars in related disciplines to share their latest research findings;

to provide an opportunity for building academic networks and for exploring possibilities of research collaboration among scholars and between institutions; and

to promote anthropology in East Asia.
Organizers
The Society of East Asian Anthropology (SEAA), an officially recognized section within the American Anthropological Association (AAA), consists of close to 400 anthropologists whose primary area of study is East Asia.  SEAA is committed to developing international channels of communication among anthropologists throughout the world. It seeks to promote discussion and share information on diverse topics related to the anthropology of Taiwan, PRC, Hong Kong, Japan, Korea; other societies/cultures of Asia and the Pacific Basin with historical or contemporary ties to East Asia; and diasporic societies/cultures identified with East Asia.  Its website is https://seaa.americananthro.org/ 
Call for papers
The Executive Committee of the Society of East Asian Anthropology (SEAA) invites proposals for panels and individual papers to be presented at the conference. All presentations are to be delivered in English.

Proposals for panels or for individual papers should be submitted to seaa.tokyo.2019@gmail.com before February 28, 2019. Results of the selection of papers will be made by March 31, 2019.

Panels:
A panel will consist of either 3 or 4 paper presenters and 1 discussant (non-presenter); however, double-sized panels of up to 8 papers and 2 discussants will also be considered.

To submit a panel, please provide a 200-word abstract for each individual paper and a 200-word statement for the theme of the panel. Only full panels will be considered for acceptance. In middle January an online form to help self-organize panels (interested individual papers seeking fellow presenters to form a full panel) will be hotlinked here.


Individual papers:
To submit an individual paper, please provide a 200-word abstract. We will cluster together papers that broadly fit theoretically. Junior scholars are given priority.
Registration
Registration starts on June 1, 2019. Refer to the information page of instructions here.
Participants will arrange and pay for their own lodging and transportation. Some general advice will be developed for Tokyo at http://bit.ly/about2019seaa-tokyo
Many restaurants near the conference venue are available at lunchtime.
A reception, the cost of which will be included in your registration fee, will be held on Saturday, August 3, 2019.
I look forward to welcoming you at GSAPS!
Glenda S. Roberts, SEAA President
Professor, GSAPS at Waseda University
Tokyo, Japan