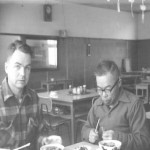 The Society for East Asian Anthropology presents the biennial David Plath Media Award to the best work (film, video, audio, and/or multimedia/interactive media, such as websites) on any aspect of East Asian anthropology and/or East Asian anthropology's contribution to the broader field. The next David Plath Media Prize will be awarded in 2020 for material produced in 2018 or 2019. Submissions are welcome from any part of the world.
The biennial prize of $300 is named for David Plath, renowned Japan-scholar and producer of award-winning documentary films. Eligible submissions should contribute to the anthropology of East Asia and may take a diverse range of forms including research footage and documentation that adds to the historical and/or ethnographic record, or is used for further analysis (such as linguistics, dance, and art); ethnographic media that contributes to theoretical debate and development; media designed to enhance teaching; and media produced for television broadcasting and other forms of mass communication. Nominations for the prize may be made by producers/authors, distributors, or interested third parties.
Past David Plath Media Award Recipients:
2018: Aaron Litvin and Ana Paula Kojima Hirano's film One Day We Arrived
2016: Aya Domenig's film The Day the Sun Fell
2014: Dipesh Karel and Asami Saito's film Playing with Nan
2013: Jenny Chio's film Peasant Family Happiness
2011: Karen Nakamura's film A Japanese Funeral and Mark Patrick McGuire and Jean-Marc Abela's film Shugendo Now
Submission Instructions:
Please look for instructions and deadline in spring 2020 for the award made at the Annual Meeting in fall.